Time flies so quickly, I forget to stop and write about Evie's current phases and new developments. I can't stress just how much joy she brings us every single day! Most days, I just want to hold her all day long and give her hugs and kisses. Unfortunately, being a stay-at-home Mommy involves a lot more than just hugs and kisses. :/ It can be really challenging trying to balance the housework, the cooking, the laundry, the cleaning, the errands, et cetera, with the diaper changes, the feedings, the baths, and other activities. And then trying to add other things into the mix, like reading, writing, working out, or going on dates or visiting with friends.... everyday is such a challenge! But one smile from Evie makes it all worth it. :) I just LOVE being home with her!
In the last couple of weeks, Evie has been using her hands so well! We are just amazed. She also shakes her rattle up and down with her right hand- she's always swinging that right hand.
She has been sleeping through the night a lot in the last two weeks, which has been great, but she is still getting up pretty early, which means it takes me forever to get ready in the mornings. She has also started staying up later- sometimes until 9:30 or so, which is not so fun because it is nice to chill for a while after she goes to bed.
She doesn't get as much tummy time as perhaps she should, but she is sitting up quite well on her own. I still sit with her to catch her when she occasionally falls, but that only happens maybe once every ten minutes or so.
She had her first taste of food- apple sauce (or pureed apples) on December 27th. She did really well, but sometimes made a sour face. I imagine apples are sour compared to her milk! We fed her apples again last night, the 29th (my birthday!), and she ate more than last time, and really went for that spoon, though she still made her sour face. ha! It was so much fun. This week, we are planning on introducing avocados (superfood!) and rice cereal, and maybe even adding a second feeding toward the end of the week.
Evie still seems to prefer to eat (milk) absolutely all the time, but we are getting more and more days in of 3-4 hour stretches rather than her former 2. It is hard to make the stretch when it is just the two of us at home all day because when her fussiness hits, I'm often in the middle of trying to get something done and it is easier to just stop and feed her and then get things done rather than stop and try to find something else to do with her for another hour or so, and then feed her before finishing what I started. She has been practicing her "Bbbrrr" sounds a lot this week, as opposed to her "da-da's" and "Yeah-yeah's". But I did hear her say "mama" when she was upset (indiscriminately, I'm sure).
We were able to go outside twice since the ice storm hit a couple weeks ago, and we just sat in the sunshine for 15-20 minutes. It felt so good, I could hardly make myself go back in! However, the wind is a little too cold, even if I snuggle Evie the whole time. ha!
But I'm hoping it will be warm enough for us to go outside a few times this week. We need that sunshine and fresh air.
Evie got so many wonderful Christmas gifts! So many good books, bath toys, babies to snuggle, toys to rattle and chew, clothes to wear, and two pianos to play. I am planning to do a lot more reading with her now that we have so many books and she is starting to focus on them better.
I think this Christmas was the best one I can remember! We had so much fun at the Christmas Eve party at Mom's, with the music, the family, the Christmas story, the card games, the ginger bread house, and more. It was a blast! And then Evie probably enjoyed her tissue paper in her gifts more than anything else! We loved watching her play with that stuff. It was such a blessing to be able to share it all with Evie for the first time! She did great and was happy the whole time. Micah picked out the best live Christmas tree, and we had fun decorating it while watching White Christmas. We played The Nutcracker while we opened our Christmas gifts together and Micah and I drank emulsified coffee from our new coffee mugs.
We have been trying to dream up different Christmas traditions we'd like to have for our family in the future. I'd like for The Nutcracker to be a part of our Christmas so that Evie and I could go together to see the OKC ballet when she is older. I'd also like to make a large batch of gingerbread cookies or a gingerbread house together. We didn't take her to see Christmas lights this year because we weren't sure she'd be able to enjoy them. Next year, they are a must!
I am thinking about writing Evie a letter for her baby book that tells all about her first Christmas. We pulled out all the stops this year just for her, but of course she won't remember it, so I'd like to document it somehow.
Evie got one of the best Christmas gifts there is to get! She got a new baby cousin the day after Christmas! We can't wait to visit him sometime in the next month. I wonder what she will think...? She is so blessed to have her Texas cousins!
For my birthday, Micah and I were both sick. This is the first time I've had a cold/virus in ten months! For Micah, it has been even longer. We were only sick for about two days, but next time I hope we are only sick one at a time, because that was rough! We used every home remedy we could think of over the weekend: eating straight honey, eating honey and cinnamon, making real ginger tea, drinking Emergen-C, drinking citric acid+baking soda+ water, taking Alpha SH tablets, eating brothy soup, gargling salt water, using Thieves oil, taking peppermint or tea tree oil baths, using garlic oil in our ears... So, I guess it paid off since we recovered so quickly, but it was a lot of work! Man, it is good to be healthy again! Thank the Lord! Now if we can just get some good weather, and if I can ever get our house put back together, that would be wonderful. We did at least get to escape out to a nice dinner with mom and dad for my birthday, which was really refreshing. Despite the illness and exhaustion, this is definitely the best birthday ever, since I get to share it with my baby girl. And-thank the Lord- she has never been sick! What a blessing!
We have been making great strides as a family to be healthier, since we are still recovering from my horrible eating requirements during pregnancy. We are using our Ninja smoothie maker a lot to get in nurturing foods like spinach/kale, greek yogurt, and fresh fruit. We are eating turkey-spinach/kale omelets almost every morning and doing our best to eat nutritious home-cooked meals for dinner. I recently picked up yoga again, though I am still trying to work out the kinks in timing it so that I am not interrupted five times. I had originally planned to start a running program, but it just isn't feasible with our current lifestyle; I simply can't commit to leaving the house without Evie for any set amount of days during the week. Maybe someday I'll get a jogging stroller and try again with Evie. Although I'd tried yoga a couple times before, I don't think it would have ever clicked for me until having gone through labor with Evie! Surprisingly, laboring for 22 hours took a LOT of mental focus...more than I ever thought I was capable of doing. So as soon as I started the old yoga practice, it all just sort of clicked: the connection between mental focus and physical strength. Yoga, more so than other forms of exercise, allows for visualization, meditation, and positive thinking. Of course, yoga has religious roots that one needs to be mindful of and stay clear of. However, I think yoga as a whole is redeemable through Christ, as so many things are.
One major inspiration is a gift from Candy: Giada's Feel Good Food Cookbook! She has a lot of great healthy recipes that I can't wait to try. I have always wanted a cookbook by Giada!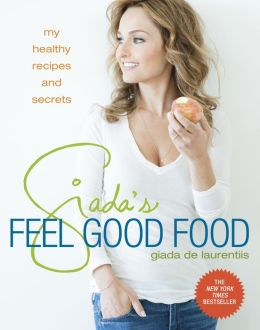 For my birth-week (yes, I'm celebrating all week), I am planning to get some sunshine with my baby girl and grab a cup of Joe with my one-and-only. It doesn't get better than that on this side of heaven!
Love and Cheerio,
xoxo
Natasha W.